Events: new publications and coming attractions
to contact Robyn re "The Mighty Quinn" - themightyquinn.infinity@gmail.com

From The Kirkus Reviews:

"For her first middle-grade novel, set in Hillsboro, Ore., where she lives, Parnell creates interesting child and adult characters and confronts them with serious issues, including child abuse, care for the environment, ethics and even skin color." — Kirkus Reviews

"...it will certainly provide food for thought." — Kirkus Reviews

"...one of the few books for the audience that discusses the possibility of not practicing a religion. (Fiction. 9-12)" — Kirkus Reviews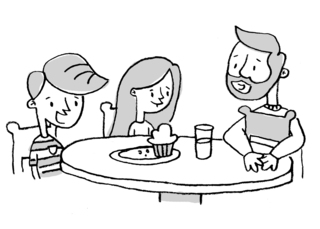 My middle grade novel "The Mighty Quinn," published by Scarletta Press in 2013. An excerpt:
Although Neally had considerately suggested that they save some food for Sam, Quinn was having second thoughts. He had just eaten the best muffin in his life, possibly the best muffin on the planet. He took a sip of milk and eyed the chocolate chip banana muffin Mr. Sanders had set aside for Sam.

"Seconds, Quinn?" Mr. Standers held out a plate of still-steaming, fragrant muffins.

"Sure, thanks. These are....." Quinn licked chocolate off his finger. "These are the muffins of infinity."

"Infinity?" Neally said. "I don't think you're using that correctly. We could look it up."

"Quinn, eh?" Mr. Standers turned his chair backwards and sat facing the kitchen table, his legs straddling either side of the chair's back. "That's a great name. The Mighty Quinn."

Quinn stared blankly at Neally's father.

"You've never heard that?" Mr. Standers hummed a tune that was unfamiliar to Quinn.

Neally groaned, burying her face in her hands. "All oldies, all the time...you've got to find another radio station, Dad."

Mr. Standers grinned at his daughter and continued to hum.

"Oh, that one; yeah," Neally said. "I recognize the tune, but what's it about?"

Mr. Standers shrugged his shoulders. "It's a song from the Sixties; who knows?"

"The Mighty Quinn," Neally said slowly. "That's way cool."

"That's way not true," Quinn muttered. "Could you please not say it in class or anything?"